The Granados Family has had a long time residence in the town of Aracena. It is believed that one Don Pedro Fernandez Granados distinguished himself especially in the recapture of Jerez de la Frontera from the Moors in 1254, where, In reward, the King, Alfonso X "The Wise" granted him hereditary titles and their corresponding estates in Andalucia. The name is mentioned many times in Los Libros de Repartimientos de Tieras de la Conquistas de Andalucia, and its nobililty is mentioned in Las Ordenes de Santiago, Calatrava y San Juan de Jerusalem and La Real Maestranza de Seville.
The Town of Aracena had its beginnings as a Moorish fortified town or Alcazaba on the top of the hill (Cerro de Castillo). This consisted of a large walled precinct divided in two by the Castle proper which was the home and command post for the local Moorish lord of the area. The towns Mosque was largely demolished and replaced by the current church the Iglesia del Castillo which is among the oldest in the area. This fortress town is though to have been built in about the 12th century particularly because like in Seville at the Cathedral there the original minaret of the mosque was retained as the tower of the church. The patterned brickwork is similar to the Giralda in Seville. The crypt of the church is the burial place of many Granados ancestors and provides key confirmations about the genealogical information of the family.
---
For a clearer view of the genealogical tree it may be helpful to click on the listings on Wikitree.
Starting in 2005 Under the auspices of Uncle Tony the Family commissioned a series of professional genealogical investigations looking at the ancestry of Ramon Granados Marquez and Maria Concepcion Rey Capdevila (see also Rey Family in Spain) from researcher Matthew Hovius. His series of reports is listed to the right. Earlier reports are contradicted in some details as new information has come to light. The Granados family's long history in Aracena presents a difficult set of circumstances in the investigation in to family history. Records of births, deaths, marriages and such are primarily recorded in church records. In 1935, during the Spanish Civil War, Miners burned all of the civil and ecclesiastical records in the town so there is virtually nothing to go on. Fortunately the Granados clan is an argumentative bunch and have historically prone to filing law suits and in making wills so there is still a good bit of information from the individual archives of lawyers practicing in the town. Much of the work done by Mr Hovius involved painstaking sifting through these records which have been indexed as far back as the mid 1750's Older records exist but need to be looked at page by page and sampling some of these has yielded some interesting discoveries. Details of these reports are summarized below.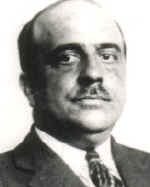 The Ancestry of Ramon Granados-Marquez
From Granados Family History
By Kathrine Collins Granados
First Generation:
Ramon Granados Marquez
Father: Luis Granados Fernandez
Mother: Maria del Rosario Marquez Muñoz
They had four children: Luis, a lawyer; Ramon, born September 4, 1880; Librada and Celestino, who amused children with his Kaiser Wilhelm style moustache. Librada married Juan Parra, and they had five sons, Fernando, Luis and German (two others un-named).
Ramon Granados-Marquez born September 14, 1880 in Aracena, Huelva, married Maria Concepcion Rey Capdevila of Seville. Since Ramon was in Cuba at the time, they were married by proxy in a civil ceremony in Seville on January 20, 1903. Concepcion's brother Viriato stood in for Ramon. Maria Concepcion left for Cuba and was married to Ramon in a ceremony before a priest on February 10, 1903.
Second Generation:
Luis Granados Fernandez
Father: Ramón Granados Barrera
Mother: Dolores Fernández Domínguez
Maria del Rosario Marquez Muñoz
Father: Antonio Marquez Garcia
Mother: Carmen Muñoz Galvan

Ramon's father, Luis Granados Fernandez, was born about 1840 in Aracena He died on January 12, 1895 and is buried in the family crypt at Aracena's "Iglesia del Castillo". He married Maria del Rosario Marquez Muniz before 1875. As early as 1864 Luis held the position of Procurador (Prosecutor) at the local court, and had business interests in Seville.

Maria del Rosario was born before 1856 in Aracena. Other children included Luis, who became a lawyer; Librada, who married Juan Parra and had three sons, Fernando, Luis and German; and Celestino, a playboy who never married.
Third Generation:
Ramón Granados Barrera
Father: Celestino Granados de Valladares
Mother: Josefa Barrera Monsalve
Dolores Fernández Domínguez
Father:
Mother: Catalina Dominguez (?)
Ramon Granados married Dolores Fernandez-Dominguez, whose mother was Catalina Dominguez. Their sons were: Juan Nepomuceno, a Catholic Priest; and Luis.
When Juan Nepomuceno Granados entered the priesthood, his aunt, Maria de los Dolores Barrera, gave him properties known as El Pino, Pera Mora, end of Aroche; Huestos Viejas, Cerro and Vinerias. His will, dated January 1, 1912, bequeathed these properties to St. Peter's Priesthood. Other properties included a chestnut orchard at Carrera del Caballo, an olive grove at Dehera on the road to Cortelazos, a vineyard at Dehera, and an olive grove at Rebollar.
Antonio Marquez Garcia
Father:
Mother:
Carmen Muñoz Galvan
Father:
Mother:
Ramon Granados Barrera, the father of Luis Granados-Fernandez, was born before 1805 in Aracena. He married Dolores Fernandez Dominguez, and owned land in and around Aracena, where he appears in a great many documents pertaining to land transactions. He died on April 17, 1870 and is buried in the family crypt. Dolores was born in the nearby township of Cumbres Mayores. She died after 1883. A second child of this couple was Juan Nepomuceno Granados, a priest, whose 1912 will provided much information about this family.

Antonio Marquez Garcia, the father of Maria del Rosario Marquez-Muniz, was born in Aracena, and died after 1875. He married Maria del Carmen Muniz Galvan. His will, made in 1875 specified that his only child, Maria del Rosario was to receive 3,625 Pesetas as a dowry at the time of her marriage.
Maria del Carmen Muniz y Galvan was born in Aracena. She died after 1875. Her parents' will indicates that she had received a dowry of 8,000 Reales at the time of her marriage. Her parents also left her a hacienda called La Barquera and a home on Aracena's Campito Street.

Fourth Generation:
Celestino Granados de Valladares
Father:
Mother:
Josefa Barrera Monsalve
Father: Pedro Pío de la Barrera
Mother: Doña Nicolasa Barrera Monsalve
Celestino Granados de Valladares, the father of Ramon Granados-Barrera, was born before 1766 in Aracena. He died after 1827. His immediate parentage is unclear, but notaries referred to him as Celestino Granados y Valladares when preparing legal documents for him, although he never signed that way. It's likely that a lengthy and acrimonious lawsuit between the two families was to blame, a suit that began at the Real Chancilleria of Granada in 1763 and lasted for years. Celestino's first wife was Teresa Guerra, who died before 1790, and their son Jose Granados Guerra, became a priest. In 1791, Celestino owned a home on Aracena's Calle Real, and in 1808 he bought a hacienda that bordered on that of a Jose Granados. Celestino's second wife was Maria Magdalena de la Barrera. Other children included: Maria del Dolor, who married Jose Lobo; Maria del Carmen, who married Tomas Garcia; and Maria del Pilar Sagrario, who married Jose Gonzalez-Gonzalez.

Antonio Marquez, the father of Antonio Marquez-Garcia, lived in Aracena in the early to mid 1800's. He married Francisca Garcia. and although several Marquez families resided in Aracena in the early 1800's, efforts to determine his parentage have thus far been unsuccessful,
Muniz, the father of Maria del Carmen Muniz, was born in Aracena and died after 1856. Before 1829, he married Ana Galvan, who was born before 1793. Another child of this couple was Maria Francisca.
Fifth Generation:
Pedro Pio de la Barrera y Narvaez, the father of Maria Magdalena Barrera, was born about 1724 in Aracena. By 1758, he applied to the royal officials in Cadiz for permission to return to the Americas, where he had previously spent some time. He was to embark on an unspecified mission from the Bishop of Papayon in Columbia. Before permission could be granted, he had to produce 3 witnesses who stated that he left no wife in Spain. Two of the witnesses were Valladares men from Aracena.

No record exists of his first Americas trip, but he must have returned after 1761, for the will of his brother Agustin reveals that Pedro Pio had given him 16,000 reales when he returned from the Indies, "due to the death of our brother friar Manuel Barrera y Narvaez ... from assets that Manuel had in the city of Seville." Friar Manuel is stated in an Aracena history book to have been killed by pirates shortly after his ship set sail from Seville. Pedro Pio married Nicolasa Monsalve y Mora after 1758. His will, dated September 3, 1791, stated that he held the post of Regidor General, and Alguacil Mayor del Santo Tribunal de la Inquisicion, or the equivalent of being head of the City Council and Sheriff for the Inquisition. Their other children included: Josefa, Agustin, Luisa, Diego, Mames, Pedro and Maria del Dolor. Mames studied law in Madrid; Maria del Dolor became a nun, and Agustin, Josefa and Luisa married. Nicolasa Monsalve y Mora was born in Niebla. She died after 1807. Pedro Pio died about 1791 in Aracena.

Jose Antonio Muniz, the father of Francisco Javier Muniz, married Ventura Bernal. Other children included Victor, Maria del Carmen, Maria Jesus and Teresa. He owned a home on Aracena's Campito Street and some land in El Castano. An unusual notation on his will was the precise date and time of his death: 9:00 a.m. on September 3, 1829. Ventura Bernal's dowry included a crucifix to be worn around her neck, dresses of velvet and other cloths, undergarments, shawls, shoes, fans, buttons, beads and lace among many other personal items. She died after 1829.
Felix Galvan, father of Ana Galvan, was buried on January 15, 1793 in Aracena. He married Candida Carrion, who died after 1793. Other children of the couple included Maria Francisca and Felix. .
Sixth Generation:
Juan Bernal, father of Ventura Bernal, died before 1796. He married Florencia Fernandez.

Opportunities for Further Research
This new report on the Granados ancestry leaves many options still open for documenting additional ancestors:
It would be advisable to determine if there are additional Limpieza de Sangre files pertaining to any of the people mentioned herein. Specifically, Hernando Granados Francisco and Pedro Pío de la Barrera y Narváez are known to have held posts with the Inquisition; Pablo Granados, and Francisco Granados Infante, mentioned below, were priests. Friar Agustín Narváez y Cárcamo was Prior of a Convent in Sanlúcar de Barrameda from 1719 to 1725, and then took up a post with the inquisition of Seville. Locating and either examining or obtaining copies of such records for these individuals would be worthwhile. This type of file has already been used to much advantage in the past in establishing ancestry for the Barrera and Monsalve families; there may still be other such resources in Archives, waiting to yield their secrets.
Research in Seville may identify some additional ancestors of Felipe de Quadros Caro and his wife Antonia Osorio. Rafael Sánchez Saus' work on medieval families of Seville includes a lengthy pedigree of the same Quadros family from which Felipe claimed descent. But he does not develop all of the lines given in the sources that he consulted, keeping his work within the medieval period. The Institución Colombina in Seville holds many unpublished manuscripts, such as one written by Juan Ramírez de Guzmán in 1652 on noble lineages descended from Seville's knightly settlers. They also hold a manuscript history of the Monsalve family.
Although much of the Granados' ancestry in San Juan del Puerto has been amply documented through two lawsuits mentioned below, some research in San Juan del Puerto's parish records would perhaps add the as yet unknown parents of Elvira Encalada and Leonor Bravo de Laguna.

With regard to the Encalada and Bravo de Laguna families, now that their places of origin in northern Spain have been identified, it may even be possible to determine, through bibliographical research, some medieval ancestry of these families.
It may be worthwhile to contact Javier Pérez-Embid, author of the Aracena history book mentioned below, to see if he can provide any additional information or shortcuts to source documents. He indicates repeatedly in his book that he has examined a two-volume manuscript history of Aracena by a local historian named González Tello, but does not indicate where the manuscript is held; it does not seem to be in Aracena's Municipal Archive.

Additional research in Aracena's notarial records would surely yield the names and life stories of more Granados ancestors.