Ramon Granados Rey
(name at birth following the Spanish naming convention)

On April 18, 1912 Ramon Granados (Jr.) was born at Columbia Hospital, Washington, DC. He was the first child born to Ramon and Conception in America and the only one of eleven born in a hospital.
Ramon was the second son and fifth child in the First Generation. On September 16, 1933 he married Katherine Collins (Kitty). They had two sons, Michael Ramon and Ramon Juan. He and his family lived in Riverdale Heights and later in Bowie, MD.
Ramon died on February 10, 1981 at the age of 68. He is buried in Ft. Lincoln Cemetery in the Garden of the Crucifixion.

---
Ramon was the first of the First Generation to be born in the United States and the only one to be born in a hospital. Evidently, Concepcion did not like the hospital experience and she gave birth to her subsequent six children at home.
Ramon's older siblings tell the story of going to see the new baby at the hospital. their father showed them a black baby, saying this is your new brother. they all believed this, that he was born black and turned white after being washed.
Submitted by son of Ramon II
Ramon II shared his April 18th birthday with his grandson, Brian James Granados (son of Ramon Juan).
Ramon II was drafted during WWII. He went to Bainbridge to train with the Navy. He was sent home because of a problem hearing. He may have completed the the sixth grade at Riverdale Elementary school. Education was not a high priority.
He did complete many Fire Department training courses given at the University of Maryland, and was very active with the Maryland State Training program for Firemen. In his adult life, Ramon II had various occupations that included being a salesman for Jewell Tea Company and Holmes Bakery, as well as driver / salesman for Wonder Bread, Teamsters Union Labor Representative and Air Conditioning Mechanic.
In the course of his life, Ramon II traveled to Cuba, Spain, Hawaii, California and Florida. His lifetime accomplishments are many and include:
Fire Chief, Riverdale Heights.
President, Prince George's County Firemen's Association
Business Representative Local 33, Teamster Union
Life member, Bowie Volunteer Fire Department and Rescue Squad
Hall of Fame, Prince George's County Firemen's Association along with his two son's Michael and Ramon Juan
Candidate Prince George's County Commissioner
25 years Safe Driving Wonder Bread.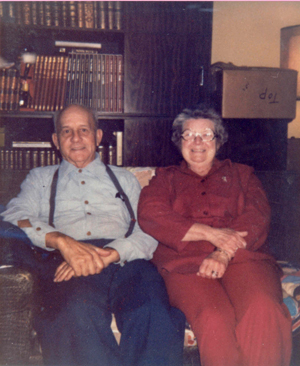 Ramon & Katherine - Christmas 1980